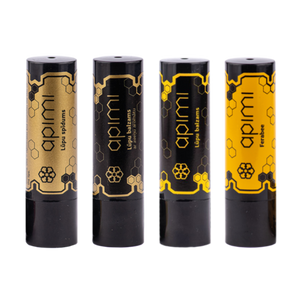 Apimi balzamu komplekts / Apimi balm set
Regular price
€19,00
Sale price
€23,00
Unit price
per
Tax included.
Buy Apimi lip balm set and save 4€!
The set includes all four Apimi lip balms: Lip Balm with beeswax, Lip Balm with raspberry aroma, Lip Gloss and Ferabee.  (Use "links" and learn more about each type of balm.)
Apimi lip balms contain beeswax obtained in Piebalga apiaries, it forms a natural protective layer on the lips, retains skin moisture and protects against the influence of external environmental factors. Vitamin E, coconut oil, castor oil and sea buckthorn oil – moisturizes, nourishes, soothe, and rejuvenate skin on the lips.
Lip gloss and Lip balm with raspberry aroma is supplemented with a delicate raspberry aroma and contains propolis extract, which has regenerating and anti-inflammatory properties.

Ferabee is made of propolis and natural beeswax. Propolis has analgesic, antibacterial and antifungal properties. Propolis reduces redness and itching, promotes faster healing of abrasions or inflammations.
---